2023 Annual Membership Meeting Announcement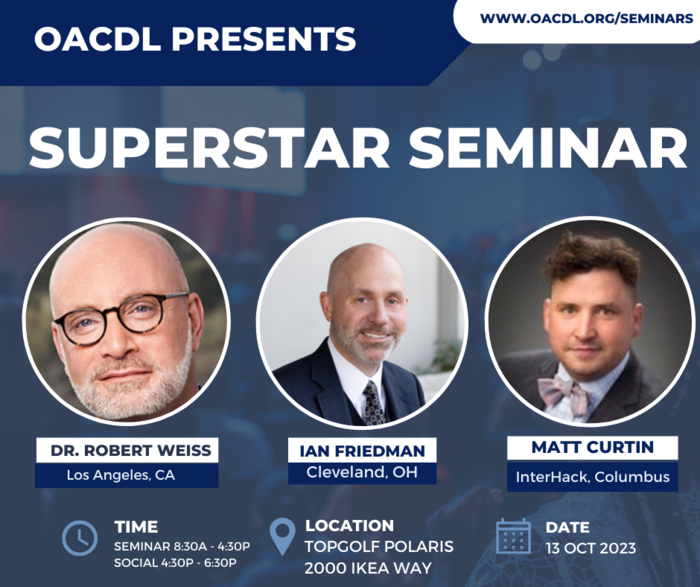 The Superstar Seminar is on Friday, October 13. For the first time, OACDL will be hosting a seminar at a Topgolf location! The seminar will run from 8:30a-4:30p followed by golfing and happy hour.
Our featured speakers include Former OACDL president Ian Friedman (Cleveland) and Dr. Robert Weiss, Sexual Recovery Institute, Los Angeles, CA who are presenting on Sentencing: The Case for Mitigation in Sex Crime Prosecutions and Matt Curtin of Interhack, computer scientist and cybersecurity expert.
Mr. Ian Friedman is one of the most sought after criminal defense lawyers in the country. Based in Cleveland, Ohio, Mr. Friedman has served as chief legal counsel on behalf of individuals and entities from coast to coast and as far as Europe, Asia, and South America. Very early into his career, Mr. Friedman earned a fierce reputation for his skill in the courtroom, successfully taking on cases that were widely seen as unwinnable. His style is known to be out-of-the-box, aggressive, and comprehensive. Regularly called upon to teach lawyers, young and old alike, Mr. Friedman always emphasizes the need for tireless preparation. That commitment to preparation is afforded every client in every matter. Mr. Friedman's practice within the realm of criminal defense is very diverse. His clients are in need of service from the initial investigation through appellate or post-conviction representation. He has tried more than Two-Hundred (200) defense cases to verdict in municipal, state and federal courts although Mr. Friedman would rather see his client's case successfully resolve prior to ever entering the courtroom and without any notoriety.
Dr. Robert Weiss LCSW, CSAT is Chief Clinical Officer of Seeking Integrity LLC, which provides residential and online treatment, education, and support for male sexual addicts and their families. Seeking Integrity also offers specialized residential treatment for men with co-occurring sexual and substance abuse disorders. An educator, author, and licensed clinician for nearly 30 years, Dr. Rob has created six residential intimacy and addiction treatment programs in the US, Southeast Asia, and the US military. He has served as a subject-matter expert for numerous major media outlets, including CNN, NPR, and The New York Times, among others. Dr. Rob is the author of eleven books, including Prodependence, Sex Addiction 101, and Out of the Doghouse. His Psychology Today blog, "Love and Sex in the Digital Age," has over 22 million reads, while his podcast, "Sex, Love, & Addiction," has over 1.2 million downloads.
Matt Curtin leads Interhack's professional practice, addressing matters such as data breaches, intellectual property protection, computer crime, and use of data in litigation. Curtin has been engaged in criminal, civil, administrative, and military processes for both those bringing and defending actions, as well as for the court directly. His opinion has been accepted by federal and state courts throughout the country in hearings, trials, and in appeals. In 1997 he helped to lead the DESCHALL project defeat the U.S. Government Data Encryption Standard (DES) for the first time in open research using exhaustive key search. His book Brute Force: Cracking the Data Encryption Standard (Copernicus Books, 2005) tells the inside story of the effort and how it led to a change in policy regarding strong cryptography.
To see additional Superstar Speakers and topics check out the full Superstar Agenda! You should have also received a postcard in the mail that highlights all our speakers. In an effort to be greener, we will not be sending an additional paper brochure so be sure to register online!
If you prefer to print and send in a registration form, you can print one here: Registration Form
If you have any questions at all, you can visit www.oacdl.org/seminars for more information, or contact Amy (amy@oacdl.org)